ONSITE FESTIVAL
Mirai Mizue Masterclass
TRIP TRAP! THE BIG MEETING OF METAMORPHOSIS THAT AWAKES YOU!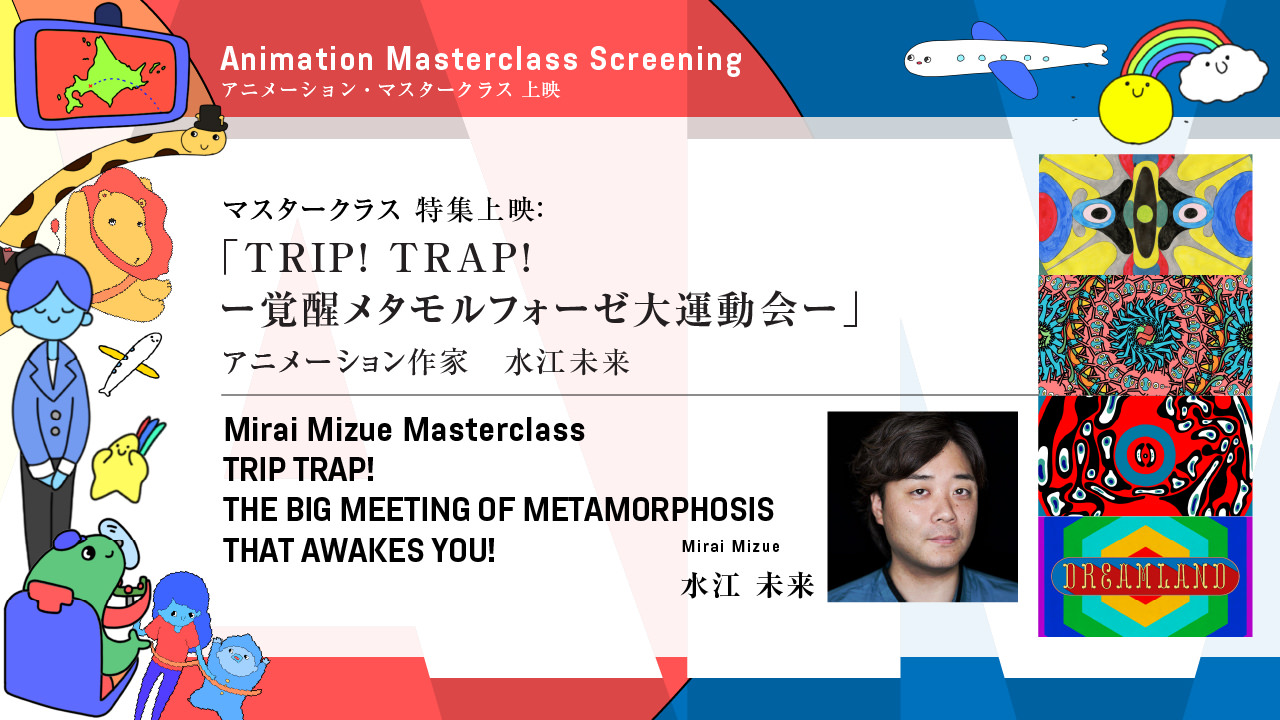 The program show the diverse and unknown sides of Mirai Mizue, who has been recognized at film festivals around the world for his entertaining and unique abstract and non-narrative animation films. With the mixture of the original shorts, music videos, TV videos, and even a pilot version of a feature film currently in development, the program will be a dazzling metamorphosis frenzy.
Screening
"AND AND"
(2011, 6min50sec)
Music: Toru Matsumoto

"WONDER"
(2014, 8min)
Music: PASCALS

"POKER"
(2014, 3min38sec)
Music: Shugo Tokumaru
Co-director: Yukie Nakauchi

"RETRO FUTURE"
(2015, 6min55sec)
Music: Matsuo Ohno

"AGE OF OBSCURE"
(2016, 3min46sec)
Music: Twoth
Co-director: Onohana

"DREAMLAND"
(2018, 5min)
Music: SCARLATTI GOES ELECTRO

Feature Film "Mirai Mizue's Journey to the West"
pilot version
(2019, 2min11sec)
Music: Shugo Tokumaru

"THE DAWN OF APE"
(2019, 4min15sec)
Music: Twoth

"Kanashimi No Kodomotachi"
(2020, 3min11sec)
Music: Maison book girl

"BAKEYO"
(2020, 3min21sec)
Music: domico

"Harumatsu waltz"
(2021, 1min59sec)
Music: Kiyomaru Togo

"Let's Love" Only for Onsite
(2021, 3min20sec)
Music: CHAI

"A VIVA NON NON"
(2021, 3min33sec)
Music: Tempalay
Director: OSRIN(PERIMETRON)
Animation: Hoji Tsuchiya, Mirai Mizue
DIRECTOR