Remembering Satoshi Kon:
Paprika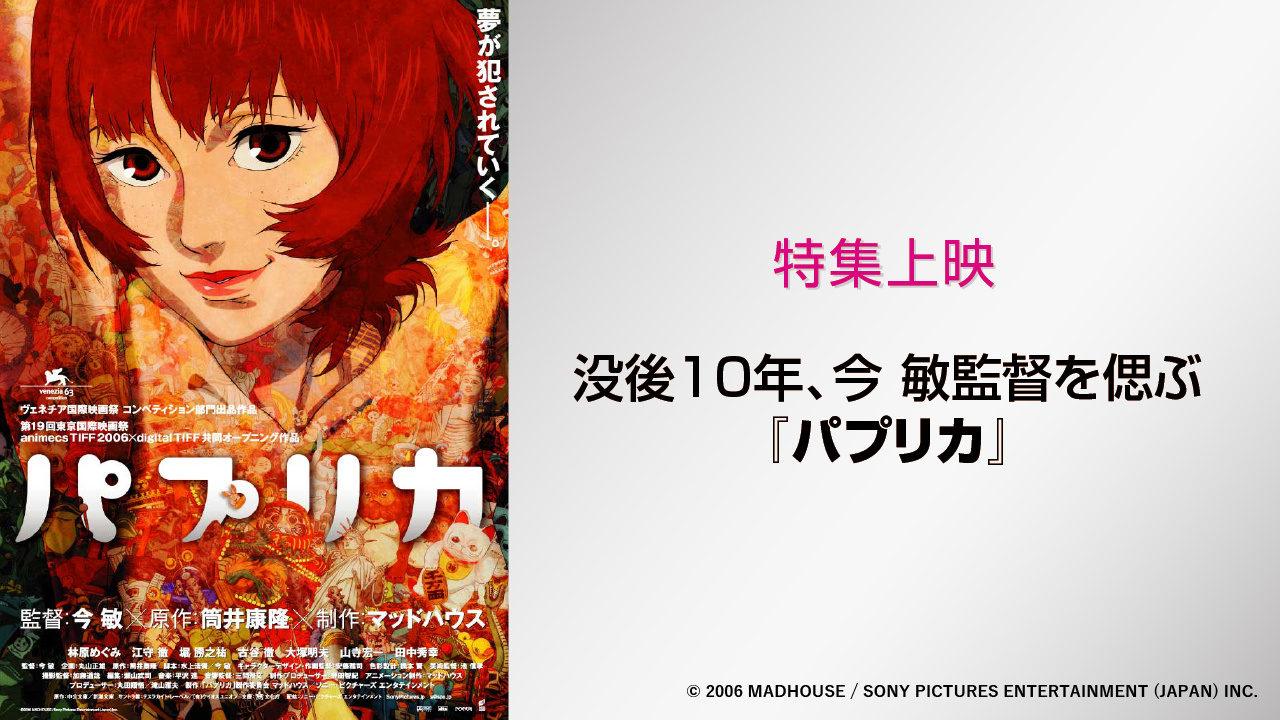 This year marks 10th year since Satoshi Kon passed away at the age of 46. His influence has only grown stronger since his death, including receiving a Lifetime Achievement Award at this year's Annie Awards. The festival will honor the achievements of the Hokkaido-born director by screening four feature films, Perfect Blue, Millenial Actress, Tokyo Godfathers and Paprika, one each day during the festival.
Synopsis
精神医療総合研究所の研究員・千葉敦子は、人間の意識をモニター出来るサイコセラピー機器の開発に携わる一方で、別の顔を持っていた。それは他人の夢に入り込み、そのトラウマを取り除くことで精神疾患を治癒する、夢探偵「パプリカ」である。ある日、敦子の同僚・時田の開発したモバイル型の最新モデル"DCミニ"三機が盗まれ、研究所のメンバーが覚醒中に意識を侵される奇怪な事件が起こり始める。彼女は所長や時田らと共に、事件の捜査に乗り出すのだが…。原作は、現実と夢が交錯する幻想的な世界が広がる筒井康隆のSF小説。筒井作品のファンでもある今 敏監督が、緻密で豪華な映像美とトリッキーな場面転換で、難しいとされてきた本作の映像化を現実のものとした。
INFORMATION
Director:Satoshi Kon
2006/Japan/90min/Blu-ray/Japanese dialogue
© 2006 MADHOUSE / SONY PICTURES ENTERTAINMENT (JAPAN) INC.